March 2015
Undoubtedly the Fender electric guitars from the 50's are some of the most iconic instruments ever made. This past spring I decided to make a series of tele and strat style guitars, in homage to this classic design. But to make things interesting, a few twists to make them special for their ultimate owners.
The bodies are all made from Alder, selected for quality and weight. The necks are Eastern Hard Curly Maple, finished in amber for that vintage "found this gem in a closet" look. Speaking of finish, I selected nitro lacquer colors that are period traditional, rarely seen, yet gorgeous. Finally the hardware is nearly all American made boutique – the finest one can find, with pickups custom wound for each guitar.
All in all there are 6 guitars in flight. A strat on order from a client in Inverness Green Metallic, a Burgundy Mist Metallic tele, two Curly Maple over mahogany body guitars that will be nitro bursted. Finally my favorite – a matching pair, tele and strat, in a rare Capri Orange color with white binding and hardware details.
Curly curly maple
I am a big fan of Maple necks for guitars, including acoustics. If Maple is good enough for violins, it is good enough for guitars! Eastern Hard Curly Maple is a superb neck wood – elegant with visual depth, bright and clear tone which mellows slightly over two to four years of playing. An electric guitar is acoustically influenced more by the neck than the body, making the neck especially important to the overall sound.
So yes, the necks are curly, with rosewood fretboards, abalone fret markers and rosewood skunk stripes. They are completed with bone nuts and Gotoh staggered height adjustable vintage tuners, which in my opinion are the finest quality vintage style tuning machine.
Hardware bits
No corners are cut with the hardware. The highest specification components are made in the USA. One exception is for the Gotoh vintage tuners, as the Japanese product is simply the best quality in my experience doing repairs. The bridges and saddles are custom milled by Callaham in Winchester, VA or Rutters in san Diego, CA.
Pickups are hand wound and individually ordered from a crew I work with out of North Carolina. The rest of the hardware all American made from CTS, Switchcraft, CRL and Oak Grisby. It costs more to build guitars this way, but the end product is uncompromised. Of course all wiring is vintage pushback with oil-filled boutique capacitors, high tolerance pots and finally treble bleeds to keep tone balance across the volume range.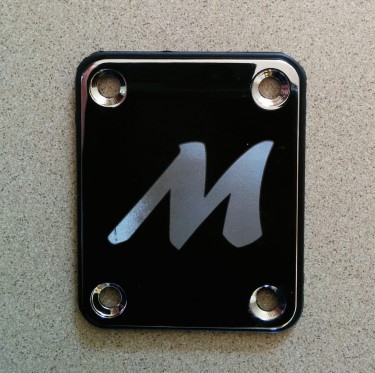 A Few Attentions to Detail
Since many of my clients play on stage, and single coils are the noiseful bane of every stage musician dealing with fluorescent lighting, careful attention is paid to shielding. Specifically the bodies are shielded using a special shielding paint in cavities and wire channels, which is then locked in during the clearcoat stage. Pickguards are shielded in copper, and ground wires connect the shields to the circuit ground.
Necks are carefully finished, dressing fret ends and ensuring smooth fretboard edges for comfort in playability. The bottom of the neck pocket is cleaned and leveled, ensuring a tight connection and proper angle for correct saddle height adjustment.
Finishes are very thin, allowing for the instrument to be resonant. It would be difficult for a factory to finish guitar in nitro lacquer as thin as I do, and warranty the instrument – one of the differences of a hand crafted guitar. To make a thin finish requires tedious attention to careful wet sanding – body, sealer, basecoat and clearcoat. Body color matched headstock logos and Morelli neck plates round out a few small touches without interfering with the essence of these iconic guitars.
The Orange Creamsicle Set
In researching colors from the 50's and 60's I found that many of the Fender colors were borrowed from automobiles of the time. They are often pastels, soft in mid-tone color. Interestingly enough, Capri Orange is from a later era. For about one year, Fender painted Stratocasters in the late 70's in this color, which is reminiscent of a childhood treat – the orange creamsicle. If one didn't know any better, one might conclude this was a 60's color, along with the rest of the famous Fender hues.
Once completed and in the hands of a future owner, they will be one-of-a-kind. Stunning partners with a unique look and quintessential sound of their original 50's inspirations. Having the opportunity to work on guitars with this attention to detail in concept, style, sound and execution is exciting as a luthier. This is what brings me passion and attention into focus.
The telecaster received double white binding, set against the orange, framing the guitar's presence. White single ply pickguards finish off the contrast. The necks are sprayed in an amber tint, with enough orange hue in the yellow translucent base to compliment the bodies. As a finishing touch, both guitars receive matching orange owl straps made by Couch in Chicago.
Final trimmings
These guitars will be protected by new Fender ABS hardshell cases which are form fitted to the bodies. While I often prefer the look of tweed cases, the new hardshell molded cases simply provide superior protection, especially for the gigging musicians where the cases are going to see a lot of public use.
As with all Morelli guitars they will come with hand-written hang tags, a numbered Morelli Guitars white pearl pick, Morelli Guitars microfiber cloth, a signed Build Sheet detailing all of the build specifications, and a lifetime warranty as is customary as I stand behind all my instruments.